Conscious Dance/Movement Journeys
Greetings. You are invited to journey into greater presence, wholeness and unfolding of your being with freestyle conscious dance, movement exploration, authentic movement, and music.
Gatherings include themes for deepening connection with embodied soul and spirit. A safe non-judgmental space is created to explore own inner journey. Opportunities for journaling, drawing, and sharing in pairs and in small groups facilitate processing and integration.
Enjoy this rejuvenating and transformative experience in community as we travel on our paths together.
February - May, 2018
most Tuesdays, 7:10 - 9:00 pm

At 358 Dupont Street
,
Toronto (Spadina & Dupont)
Eight Branches Healing Arts Centre
$75 for 5 gatherings, valid until May 22, 2018.
or sliding scale $20-25 per gathering.
I
f finances are a barrier to you attending, please
be in touch
.
February 2018

February 20th - Embodying Soul: find tools to ground in your body and center in the essence of your being.

February 27th - Ground of Being: exploring body, connecting with tissues, bones, finding nourishing ground, and source of aliveness within.

March 2018

March 6th - Less facilitated journey with freestyle dance/movement, authentic movement, music, expressive arts and sacred circle

March 13th - Connect with Your Soul

March 20th - Connect with the Energy of your Being

March 27th - Embodying Soul: find tools to ground in your body and center in the essence of your being.
April 2018
April 10th - Self-Care

April 17th - Let go and Rejuvenate with Play. Listen to your Being.
May 2018
May 8th
May 22nd
To receive updates about upcoming workshops, please join mailing list.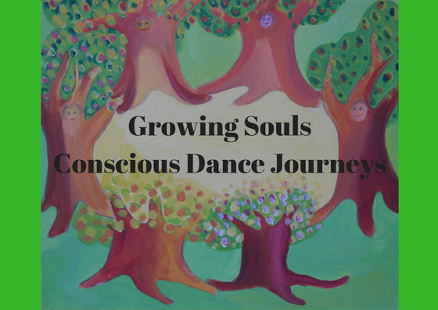 For individuals of all levels of experience with freestyle dance/movement meditation.
Directions:
5 minute
walk from Dupont subway.
Limited parking available next to the Eight Branches building.
From Spadina and Dupont: go West on Dupont on north side, Dupont will follow a curve, after the curve ends, you will see sign for Eight Branches (green tree on white sign), follow the alleyway a few steps north to second parking lot, for those driving the alleyway is bumpy. The Centre is one-storey white building to the left of parking lot.
647-836-1251 cell (before 7:10 pm).
What to bring
: we are present with bear feet, you are invited to wear comfortable layered clothing. Please bring a water bottle and a journal.
Accessibility
: the current space is on the ground floor. It is a beautiful studio that is comfortable for resting, moving and playing while lying down/sitting on the floor; a chair(s) can be available; however, most mobility devices cannot be brought inside the space. Please
contact me
for details.
I look forward to seeing you on the dance floor and to weaving the journeys with you.

Loving Blessings,

Nadia