Mikdash: Personal Growth with Movement and Jewish Spirituality
Online workshops are under development! Please sign up for the mailing list to hear about them. In-person workshops have been postponed.
Dance of Embodied Soul
Sunday February 23, 2020
7:15 - 9:00 pm. We begin at 7:15 pm.
at Esther Myers Yoga Studio,
390 Dupont Street, Suite 203
Toronto
Greetings sisters and brothers. Do you enjoy movement/dance and feel nourished by or are curious to connect more with Jewish Spirituality?
In this experiential workshop, we will have gently guided conscious dance, mindful movement and Jewish spirituality as tools for reconnecting with the embodied soul and Divine Mystery we are a part of.
Come to let go of stress, arrive home into the sanctuary of your body, heart, and soul in a supportive community. Feel rejuvenated and nourished from the source of life right here inside our bodies. Listen to the stirrings of your innermost being.
There are no structured steps. Movement explorations will help us to listen to ourselves and follow movement as it unfolds from within. Whether you want to simply enjoy moving and let go of stress, or if you want to dance into greater wholeness, aliveness and expression, the movement journey offers space to follow what you need.
Jewish spirituality (Psalms, prayers, and imagery) is woven in to inspire connection with the voice of the soul and with the Great Mystery we are a part of.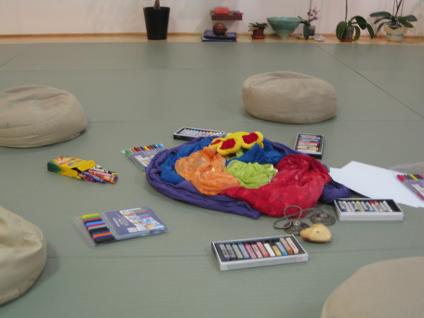 Every body is welcome, no prior experience is needed to participate.
Cost: $35
Sliding scale option to make the workshop more accessible: $20-50 (choose what works for you).

All movers are welcome, no prior experience in dance or mindfulness is needed to participate.
Esther Myers Yoga studio is located near Dupont subway and a walk from Bathurst St.

WHAT TO WEAR AND BRING: we are present with bear feet or in non-slippery socks/indoor footwear, layered comfortable clothing is recommended. So is a water bottle.
You can find details about creating safer spaces here


I look forward to dancing with you,

Nadia

The content of the workshops is inspired by and partly adapted from trainings I completed including:
Jewish Embodied Spirituality at Merkavat Ha-Makhol Institute for Embodied Spirituality with Julie Leavitt, Rabbi Diane Elliot, Simona Aronow and Latifa Berri Korpf

Embodying Great Mystery, Embodied Kabalistic learning program with Simona Aronow and Rabbi Diane Elliot